Here are some of my favorite books, tools, and resources to improve your actor marketing!
.
.
By: Paul Russell
Written by award-winning, veteran casting director Paul Russell, this uncensored, funny, invaluable resource combines actor marketing and networking strategies to help actors create their own opportunities.
.
The Actor Genie App was created by Heidi Levitt, a Hollywood casting director (The Artist). Actor Genie gives you insider information about what's casting in LA and NY in film, television and in commercials. It also has a comprehensive list of casting directors, agents and managers. The best part is you can carry it with you wherever you go!
.
Casting About is a great resource!  It lists addresses for casting directors, associates & assistants. You can track which projects are currently casting in NY and LA. You can even print your own mailing labels!
.
.
By: Brian O'Neil
A great book by former agent Brian O'Neil for actors at every stage of their career! If you need tactics to get an agent or a manager, help with writing cover letters, advice on interviews with agents it's all in this book! 
.
After interacting and working with thousands of actors I created the Actors Marketing Classroom.  You can choose from free introduction courses like Twitter for Beginners or more advanced courses like Social Media Success for Actors or my 21-Day #SocialRockstar Challenge! In all the courses, I show you, step-by-step, how to use social media correctly to create career momentum, build relationships with industry professionals and much, much more! 
.
By: Leslie Becker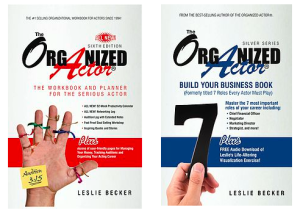 The Organized Actor has remained the #1 selling organizational tool for actors since 1994. This workbook and planner for the serious actor features an audition log, income and expense tracker, Leslie Becker's Foolproof Goal Setting process, an all-new 52-week productivity calendar and an all-new Networking Log. Leslie Becker's books will keep you organized and inspired to take control of your acting career. 
.
"The Tao of Show Business generously offers a delightful, practical, and digestible approach to mastering the entertainment industry one day at a time. Through inspiring examples and unique insight, Dallas Travers shows you how to discover your own path to acting success and how to enjoy the ride. This book reveals over thirty essential tools for professional triumph and personal fulfillment for actors everywhere."
.

Performer Track is a wonderful tool that allows you to quickly and easily log all of your auditions, callbacks, bookings, industry contacts, expenses and more. It's also an amazing audition log that helps you align your craft with your business!
. 
Video can be a very powerful marketing tool for an actor. There are lots of companies that shoot videos for actors but ActorIntro is the highest quality at the lowest price. They can create your actor reel, shoot professional self-tape auditions, showcase videos for your website, or even SlateShots for Actor Access that help you get noticed.
.
.Until soon,   
.
.  

.
"Social media marketing for actors made easy!"
.